You probably stumbled upon many platforms promising free CV templates or builders. However, the truth is that you can either expect the sound of "cha-ching" before you can even download the template or the free designs are so unattractive that you would not want to use them anyways. AND since we all know how DIFFICULT it is to create a good CV we chose these 5 platforms that can make your life a little easier. 
Here, we do not want to trick you but help you create a killer resume.
In this article, you'll get
5 platforms, where you can either build your resume or download a template within a few minutes

Short intro to all of them so you get a little overview – which makes it easier to compare them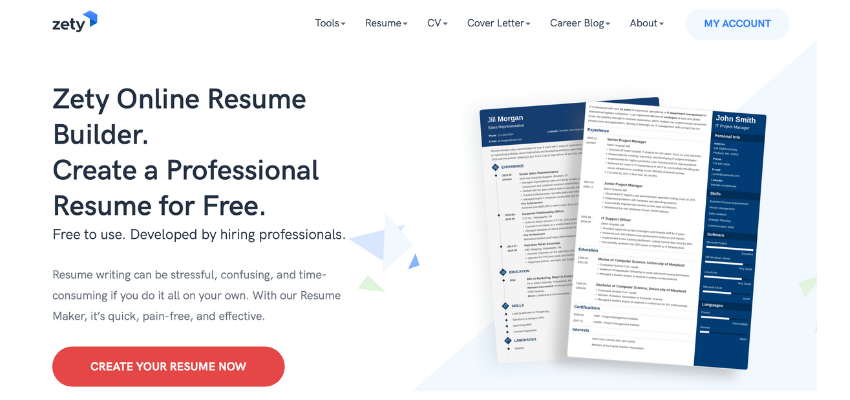 Zety is a great platform to build your resume. First, you just pick a template, then fill out all the information needed, customise the design if you feel like and finally download.
A good thing is that it does not take a long time. On the other side, you do need to register on the platform in order to download the resume, which might be annoying but does not take a long time, I know because I tried it and I can promise it is worth the few minutes. After all, free is free and simple signup should not keep you away, yay!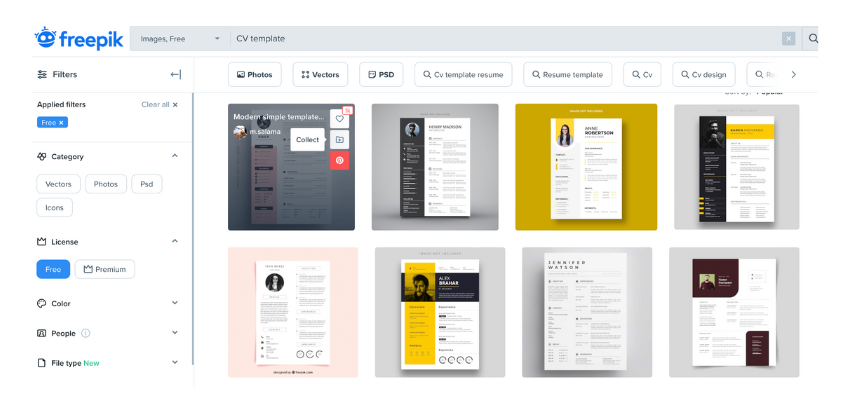 Freepik allows you to download both paid and free versions of CV templates, which already gives you quite a variety to choose from. Unfortunately, with this one, you cannot really edit the CV directly in Freepik.
You will have to download the template you like and change it in one of the Adobe programs such as Illustrator or Photoshop. I know not ideal but do not be discouraged! I promise you that you do not have to be an expert in Adobe to get the job done – it is actually quite simple. The only thing you need to do is add your text to the template and then click download or export or whatever. In summary, it is way easier than it looks but you need to have the Adobe suite. 

FYI: If you do not have Adobe programs, Freepik is probably not the best option for you as Adobe is unfortunately not free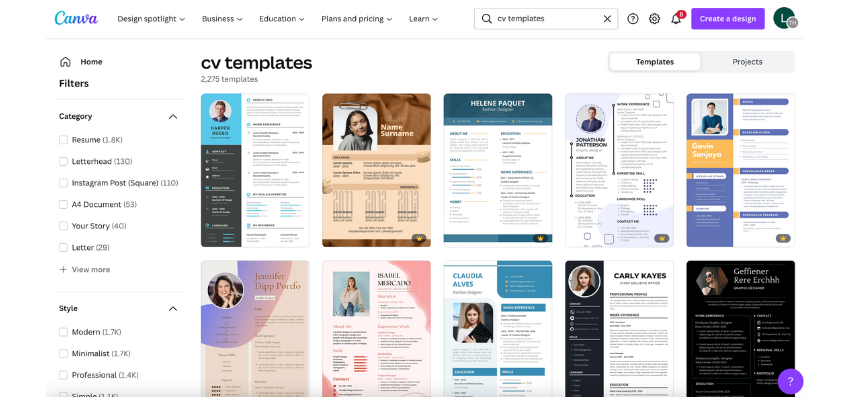 A great tool to make your CV on the fly with little to no experience with fancy design tools. Canva is the right option if you have zero experience with design and want your CV that still looks decent. 
Some of the templates are of course paid or require you to have a pro subscription, but you can still find plenty of free options to work with, so much so that you will go crazy trying to decide what your style truly is. 
Personally, I think this is the easiest and most playful out of all of these 5. The truth is that you don't need to have an account, although if I am honest it will make your life easier. With an account (which is free to start with) you can save all the variations you do and go back to them anytime. Ohh and did I say that it is also for FREE? Well, let me say it again. It is FREE!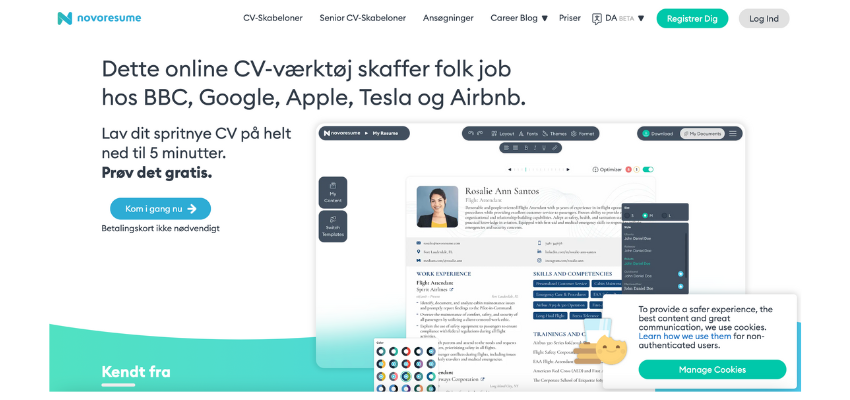 Even though the options are a bit limited on this platform, you can still get a lot out of it. Novoresume requires registering in order to download your CV, but we know by now (if you have been reading) that it´s not that uncommon for platforms to ask for registration.
With only a few designs available and a limited number of pages you can download for free, this one is the most restrictive of the bunch. Because if you have more than one page or more than one CV it is no longer a free tool.
On the bright side, they nicely divide the types of CVs depending on your level of experience which is of great help. You can get inspired and see how to structure and formulate yours if you are entering the market or becoming more senior in a particular role. So, that makes Novoresume the most adequate for getting an overview or an idea of how different CVs can be depending on your level of experience. Do not get me wrong, you can still create a decent CV here and you get all the extra ideas on how to, and what is not to like!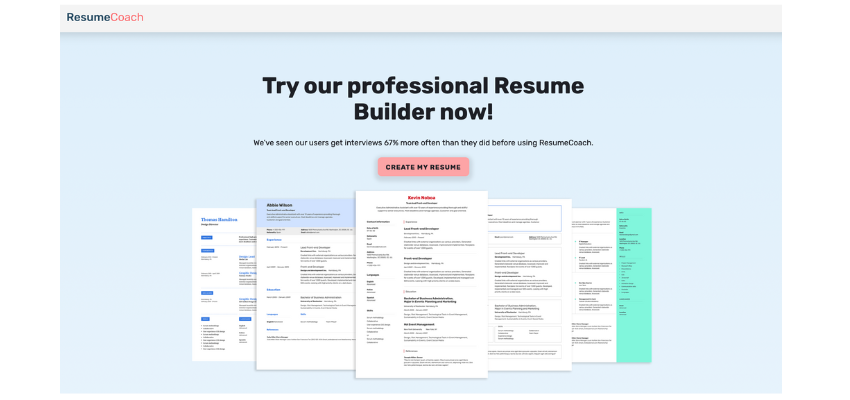 As per usual, you need to register and create an account in order to download your CV. This platform is completely free and you have access to quite a variety of templates. You can edit directly on the platform, which I think it's super convenient and fast. 
Resume Coach is more a CV creation journey that a design platform. You get a lot of tips and pre-written sections to help you shape a decent CV. They really want to help you to nail the process and succeed to land an interview. Great tool if you have never created a CV before or you just need a little "push" because you don't know what to write.
If you want to know more on how to write your CV head to our article on what needs to be included and where to write what. 
There are other platforms you might know, or think could be helpful. I handpicked only these 5 as they are the easiest to use and mainly FREE. With them, you get lots of freedom to make a great CV in only a few minutes. We all know how hard it can get to write a CV that will land you an interview, and I hope that these platforms will add value to you and your CV creation process. 
So, once you are done creating your killer CV we have thousands of positions waiting just for you here. Fingers crossed landing your dream job –  no matter if you are starting, changing or growing your career. TheHub is your biggest fan and we want YOU to succeed.

BTW: If you know any other platforms that are at least half great as these above, do not be afraid and shoot us an email or message on our SoMe.