How to Build a Startup Team With No Money
The biggest challenge faced by most startups is a lack of funding. There are different routes that you can go, such as crowdfunding, angel investors or securing a bank loan. But if this is your first entrepreneurial project or you have little experience investment is going to be difficult. 
Startups also face a similar challenge when looking to encourage talent. With no funding and just an idea, potential new hires are going to be wary of leaving their cushy 9 to 5 jobs and hopping aboard your brand new idea. It seems like a chicken and egg scenario. However, building a startup team when you have no money and a vision doesn't have to be an impossible task. 
Is your Startup vision more than an idea?
The question that you need to ask yourself (and the question that all potential hires will be asking of a startup in its infancy) is whether you have just a vision or you have a plan. We've all met people with a "vision". They are the same people with notebooks full of doodles and diagrams on pages that have gone yellow with age. These are the people who give you updates on their grand ideas at dinner parties. The same grand ideas you've been hearing about for decades. You need to have a plan to convince people that you are going somewhere and want to make this work.
How to Make a Startup Plan?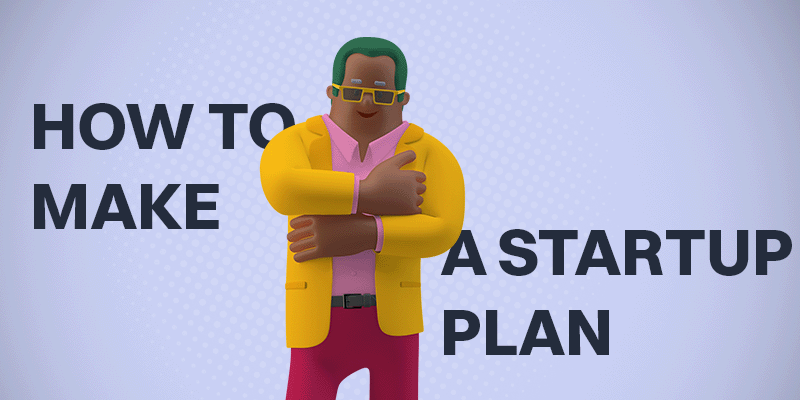 A good startup plan needs the following components:
A comprehensive summary of how your business will solve the problem experienced by your target market.

Saying "we will help businesses become more productive" isn't going to cut it. Tell your potential employees that you "aim to reduce friction and improve workflow by task automation and work scheduling" and you may win it.
A thorough understanding of your industry and your competitors.

As the person in charge, prospective employees expect you to have done your research. They will want to know who you're up against, how your business will be different (and better) to these rival firms, and how your small-fry startup plans to compete against these multinational sharks.
What needs to be done to build and grow your startup. Knowing what you want to do and what you're up against is a start. You're going to need a plan of action though. No one wants to be part of a directionless startup. They want to be part of something exciting that's going places (with a founder that knows how to get there). This may involve building an MVP, acquiring some customers, or setting up customer acquisition channels (such as an email list or marketing strategy) to prepare for launch. Oh! And don't forget to set up a plan for your onboarding processes.

 The startup life is already lean enough which therefore becomes a big plus to welcome your new talent with some professionalism and structure. This will also help your company grow efficiently moving forward!
You need to know your numbers

. Just because your startup doesn't have funds (yet), that doesn't mean that you can do everything on a bootstrap budget. You know it and anyone you hires knows it too (if they don't know, question their naivete). And you should have a good idea of what you'll need to develop your Minimum Viable Product (MVP), or what a marketing plan requires. Also, you should know when you'll need this money, as this will give your employees an idea of how much money needs to be generated and how.
The way that you present your startup plan is the subject for another blog post, another day. However, this should be written down, presented in an easy-to-read way and not just scribbled on some Post-It notes taped to the company fridge.
Showcase your startup to attract the right talent
Have you taken any steps with your Vision?
Have you ever tried to sell someone a product that doesn't exist? It goes a bit like this:
Company: Hi, we would like to sell you the best car in the world!
Customer: Awesome! Can I see it?
Company: Well, it hasn't been built yet and there are no designs.
Customer: ahhhhhhh… bye 🙂
As a startup founder with no capital, no one is expecting you to go from MVP to 1000 customers. However, they will expect you to have something to show to prove that you're serious. This could be the registration of your company's website, the filing of a trademark, or a patent if you plan to sell a physical product. It's also a good idea that you have reached out to some potential customers such as putting together an email list or writing articles about your industry to establish yourself as a thought leader.
Understand What Roles Your Startup Needs
You could hire anyone with any skills for your startup but it won't help you progress through your business plan. To hire effectively and appeal to the right people, you need to understand what roles your startup needs. The roles you need when your startup has just been founded will differ from those you need once your startup is two years in. Now, you may need talented developers who can build your MVP whereas later you may need growth hackers who can improve your churn rates. While the duties of a growth hacker may sound exciting, improving a churn rate of zero (because your startup doesn't have many customers to churn) isn't going to be very effective. 
Assess your needs carefully
To figure out which roles you need, look at the first steps your startup will need to build its project or attract investors and think of what skills this requires. You can also look at the skills that you have and see where you're lacking (or better yet, get your brutally honest best friend to point out your flaws for you) and hire people who can balance you out. This is why non-technical founders look for technical co-founders. 
Then, see what sort of roles these skills and duties would fit under them. Some roles, such as content marketer, can have lots of different titles (like a digital marketer and/or content strategist) but the skills are similar. Try typing the skills and duties into LinkedIn to see what sort of titles and profiles show up. We wrote a post on the 10 Ideal First Hires For Your Startup that could help you in the right direction!
Look for Thought Leaders in Your Space
Thought leader – noun – A thought leader is an individual or firm that prospects, clients, referral sources, intermediaries and even competitors recognize as one of the foremost authorities in selected areas of specialization, resulting in its being the go-to individual or organization for said expertise. (via)
If someone is a thought leader in your space, they know about your niche or industry and who is successful. They may have had some experience (potentially more experience than you) in working in that industry and be great to hire. If they aren't working in the field now and never have, but do have a real interest in the subject, then even better. They may have been waiting for the right opportunity to get involved in the industry and your startup, with its grand vision, could be just the opportunity that they are looking for.
How to involve a thought leader
To find a thought leader, you need to go where they are. Social media is brilliant for this as just by typing hashtags you can find profiles who post about your niche. You can also look on platforms like Medium, an often-used place for thought leaders to share their thoughts. The only problem with attracting thought leaders is that they may be sceptical of your prospects. 
They may prefer to see some results before working with you. In this case, look for people who believe in you. It's not important whether they have extensive knowledge in your industry. These believers, whether former coworkers or family members, may be more likely to support your vision and work alongside you.
Offer New Hires Equity
Getting a potential new hire into the interview in the room is the difficult part. If you've successfully done that, then you're super close to hiring them. However, the challenge isn't done yet. There's still the big question of salary. You may have a fraction of what they could get at Google, Apple, or any other major firm. In the absence of a big salary, you could offer them equity. Giving them shares to cash in on success if the company goes public or if it's purchased by a bigger company. Just because you don't have the funding secured, this doesn't mean that you have to sit on your hands. You can make real progress and make some great hires with just your great idea. Not sure how? Read: Startup Employee Equity 101 – How to Give Equity to Your Team?