The Ultimate Guide to Employee Onboarding for Startups
Onboarding employees is a lot like starting a new relationship. After the courting period (job interviews), things get serious once an employee joins your startup. You want to ensure that everything starts off on the right foot. And a lot of what will set the future tone begins during the onboarding process.
Showcase your startup to attract the right talent
The quality of your onboarding could make or break your startup. According to a survey by Bamboo HR, 31% of US employees leave their job within the first 6 months – and 68% of those within the first three.
Hiring and losing an employee in such a short term can have a tremendous impact on your business. You'll need to gather new candidates and broaden your talent pool. So it is clearly valuable to get it right from the start.
To give you some perspective, let's first take a deep dive into some key data points.
What Poor Onboarding Looks Like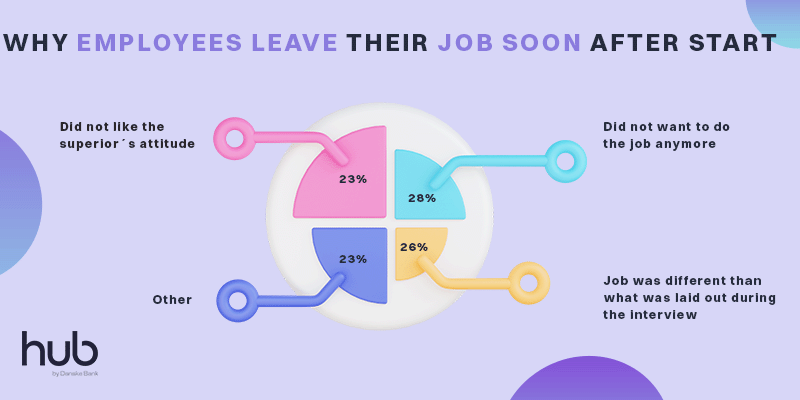 According to the aforementioned study, there are three clear reasons why employees leave their jobs soon after starting them:
28% said they didn't want to do the job anymore

26% claim their job was different than what was laid out during the interview

23% said they didn't like their superior's attitude
To tackle these issues, employers have to work harder on managing staff expectations. From the job post, to the interview, all the way to the official website, the narrative needs to be cohesive and clear about the company's mission, vision, and values.
This is what early defectors said would have made the difference:
23% said they didn't receive clear job guidelines

21% said they lacked effective training

17% said they expected a friendlier work environment
A lot of the solutions will come from a good onboarding plan and process. So how do you solve all three points above in one swoop? Create a killer onboarding plan and strategy.
Your Step By Step Guide to Lean, Effective Onboarding
Onboarding for startups can be chaotic, messy and complex, especially if you're scaling fast. You might not have a dedicated HR department yet. You might be pressured with time, resources and energy. But as Cervantes said, "to be prepared is half the victory". 
More and more industry leaders are using onboarding lists in platforms like Trello because it's a neat, free and extremely intuitive list manager for onboarding. Companies like IoT data management company Cate.io use it (you can see their public board here).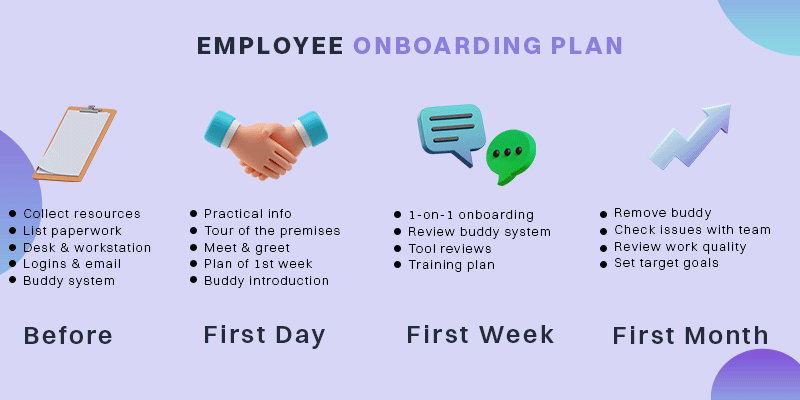 You can of-course use any other checklist tool you like. But the idea is the same: Have a comprehensive view of current tasks to complete, as well as upcoming ones. In Trello, it's pretty satisfying to drag and drop cards to the Done section, and you can also tag colleagues in the comments if you have questions directly within the platform. We've also divided the boards into four general sections, as you'll see below.
1. Before The Employee's First Day At Work
You'll be surprised by how many managers and founders fail to consider this step. But helping employees prepare in their own time before they start at work, is a tremendous boost to their confidence and a great aid for smooth integration.
It's the whole strategy behind Twitter's Yes to Desk policy, where they follow the process from hiring new staff all the way to giving them their desk next to their future colleagues.
Ideally, you'll give them at least a few weeks to review everything, but if you're super strapped for time, a couple of days will have to be enough. Just don't overload the newcomers with info and expect them to process everything within the first few days.
Here's the info you should hand them:
Introduce the onboarding process itself

Give useful, relevant resources (employee handbook, NDA)

List necessary paperwork (social security number, ID photocopies etc..)
From your side of things, this is also a good time to ensure their workstation is prepped and ready to go:
Find and equip the workstation

Create logins for all your software

Create email account

Discuss who will be the mentor for your buddy system (more on that later)
2. For the First Day At Work
How would you like to be welcomed at a new company? Ideally, warmly. You want to feel at home right away. This is why tons of tech companies are really outdoing themselves with welcome tours, orientation, dedicating time with the higher executives, and even gift bags.
You don't have to go all-in, but the bare minimum should include:
Practical information like where to park and where to get coffee

A basic tour of the premises

Introduction to key colleagues

Ensuring the employee has some time alone (useful to get up to speed with the systems at their own pace, and to remove some of the pressure).
Meanwhile, back at the office, here's what you should have in place:
Let everyone know the new recruit is coming

Free up time for a tour and a meet and greet

Ensure  a "buddy" is ready

Prepare 1st-week work plan and plan 1:1 time for first-week review
The so-called Buddy System that we keep mentioning is a tried and tested technique in the tech world used by companies like Percolate and Quora. In short, one employee from the team becomes a "big brother/sister" to answer any questions and ease the recruit into the company's life.
This will come in handy for the first week and month review, as you'll see below.
3. For the First Week At Work
Ok, it's been one week and now it's time to ensure everything is going smoothly. It's also the perfect time to iron out issues that often result from being new and maybe a bit lost and confused. At this stage, it's not so much about the quality of the work, but more about the integration process. Use the following as a checklist:
One on one to discuss the onboarding process

Review the buddy system and offer the option to switch

Double-check employee has mastered all the key tools

Create training plan

Plan a social activity – now's a great time to break out that list of team building activities, or organize a team dinner/drink
As Erik Falk Hansen of AvantGarde Search puts it: "Even if the new employee isn't clear on their exact tasks, it's still very easy to make a simple training plan. This will help employees who shape their position to quickly get up to speed on important company info, get necessary introductions and meetings, and set expectations and goals to be able to take ownership of their new role."
An interesting thing Facebook does, is to allow new developers to push some of their code very early in the onboarding process. Can you imagine that? The lines they write in their first few days will go live in front of hundreds of millions of people. This seems to be an awesome strategy for their self-esteem, engagement and long-term commitment.
4. First Month Review
After one month, it should be safe to say the employee should feel right at home. Any technical questions should be out of the way. At this stage, it's more about productivity, efficiency, and the quality of the work:
Move on from the buddy system to more general meetings

Check integration/communications issues with the whole team

Review work quality and offer constructive criticism

Set targets and goals for the next 30 days

Offer additional material if needed to patch information gaps
Don't dismiss any personal issues that may have arisen with work culture, wellbeing, colleagues etc. One interesting point made by Thomas Lahntaler, of Groundwork AS, is to remain available, but also vulnerable as an employer.
"Being the new guy at a new company is a very vulnerable position to be in," Thomas says."By making sure you are not afraid to show vulnerability back, you can establish trust right from the start."
Remote Onboarding Checklist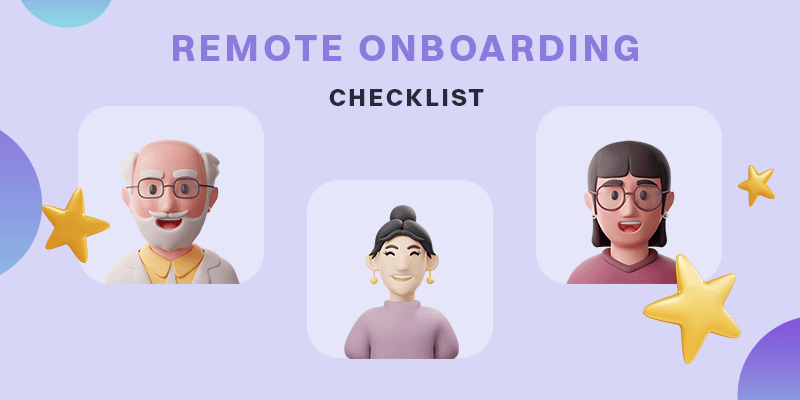 Things have changed quite a bit for all of us regarding our routines due to the pandemic which naturally has affected the way we work – and the same goes for onboarding employees.
Remote onboarding has proven to be one of the more crucial areas of business. You need to be able to comprehend and execute in a very engaging manner to make your new colleagues feel welcome and as a part of the team. All behind a screen with possibly no physical interaction. This is harder than it seems, since people are different and have very specific personalities and traits.
The checklist:
Remove Anxiety With Weekly Plans
Since your new remote employees are not in the office, they are not accompanied by the cultural feeling of being truly present. There's no team around them and no one to naturally chit chat with in-between breaks. By creating a plan and setting up multiple meetings (at least 3-4 a day) with both outlined agenda descriptions and video links, you help reduce the anxiety of the new employees by making sure there's a structure in place that they can follow without stress or a mountain of unnecessary questions. This way you're making sure that you're getting the person introduced to the team, your processes and projects.
Advice: Make sure that you balance the plans and meetings between work and socialising. It's very important for the person to feel included in the team and culture to feel calm and open.
Align Expectations With a Let's-Get-Started Project
Yes, we just coined that term. In startups, things move fast. Sometimes there's just not a lot of structure in place. And it makes sense because you as a founder have your head wrapped around hundreds of other projects and ideas. But that's a great danger to new employees. You have to make sure that the new employees feel occupied with something relevant and meaningful while progressing through the onboarding phase. This is when they are not attending meetings or socialising over Zoom. You have to keep them on your radar.
Advice: Collaboratively work out a 2-week plan that aims to align expectations for the role and set the employee on track with what needs to be done. But try not to overdo it – it's all about making the new employee feel confident about the first tasks at hand.
Introduce Cohort Onboarding and say "Goodbye!" to loneliness
As mentioned above, running a startup is hectic and requires a lot of input for greater output. You have to be resource-efficient and minimise the time spent repeating the same tasks. This is why onboarding new employees in groups is a lean strategy to grow your startup successfully while also giving your new employees a sense of community.
Advice: Assign each group a host or a squad leader who'll be responsible for creating the best possible environment for learning, collaborating, socialising and teaching the culture. Optimally, your assigned squad leader should be a specific team leader e.g. Head of Marketing, Head of Customer Success and so on.
Learn why Culture Should Be Your Number One Priority When Building a Startup.
Have Personal Connection & Socialising on Your Radar
Prepare your team members to take an active part in onboarding new employees and embracing them on a personal level. Brief your team about reaching out to the new employees to establish personal connections from the get-go. It's valuable for both parties to start building relationships during the first week.
Advice: Arrange team lunch hours on Zoom to break down the digital barriers of "normal" social interaction.
Ask New Hires for Feedback
Chances are that you might not be an experienced remote team manager yet. Meaning that you eventually will run into hiccups along the road. To get better you have to rely on your most trusted source. Yes, the new hire. Don't be afraid to ask how the onboarding process is going and if there's anything that you could improve. It will result in a better outcome for both parties and future hires! 
‍Let us teach you how to become a master at remote management! 
Key Takeaways
Hiring a new recruit is exciting for you, it means that the company is doing well. The new hire is bringing in new ideas and a new perspective to the mix. This is why onboarding should be joyful. Sure, it can be nerve-wracking for the new employee, but you can give them a huge confidence boost by letting them prepare at their own pace and holding their hand remotely.
Onboarding efficiently can be fun, easy to do, and have tremendous long-term benefits for your organization and everyone's morale.
MORE RESOURCES
As noted above, we used Trello for the onboarding checklists, but there's no shortage of dedicated tools for startups. If you're based in the Nordics, we're also proud to work with a handful of startups who are creating the next generation of onboarding checklists on onboarding tools, such as IntroDus, Onboarding Group & Wibe Academy.