If you are in doubt about what an advisory board is or why you should join one, this article is for you.
We will go through:
What is an advisory board?

What are the responsibilities of an advisory board member? 

Why should you give it a shot and become an advisory board member?
WHAT IS AN ADVISORY BOARD IN A FIRST PLACE?
An advisory board is a group of experts who offer advice to organisations about their operations, strategies, or practices based on their specialisation and experience. Therefore, being an advisory board member requires you to be an expert in your field, as you need to help the startup with their strategy development and get an informed foundation for the decision-making, so they can then make improvements and keep their organisation growing. 
According to advisory board research conducted by the Business Development Bank of Canada, 86% of entrepreneurs with an advisory board say it has had a significant impact on their business.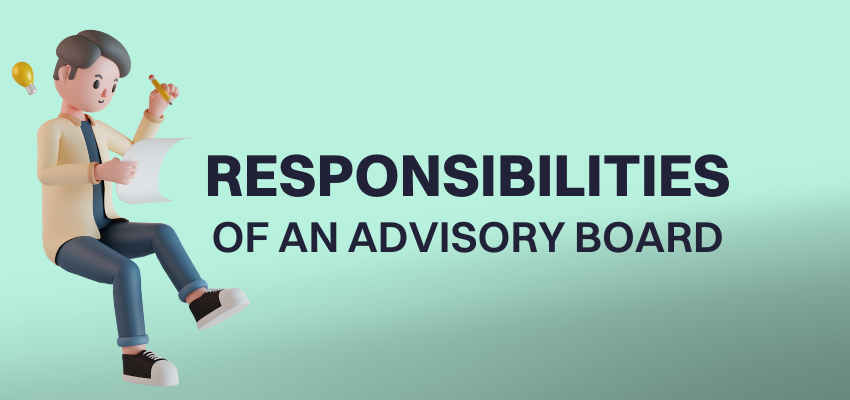 It is no surprise that every advisory board has a specific role in an organisation. That being said, all advisory boards do have something in common. Let's take a look.
1. Supporting the goals and objectives
Being a member means that you will need to provide your guidance regarding multiple issues the organisation might be facing. The essential responsibility is to support the organisation's goals and provide the necessary input to reach those. You as a member need to provide insights into your area of expertise on how they can best move towards their objectives, and it is then up to the startup to use your knowledge and input, and decide how they want to act.
2. Providing oversight, guidance, and expertise
You should help the company stay on top of the industry trends. Obvious – right? This can be anything from helping beat the competition, streamlining the customer service based on new purchasing behaviours, or tailoring the products and message to reach a wider audience.
Advisory boards provide the latest knowledge, tips and tricks, and trending information within the industry. However, there are different functions of advisory boards. They can overlap in some areas but having a well-defined category can really benefit both you to know which role you are expected to play and the organisation to clearly define what they want to get out of the board.
Now, let´s see the most typical types of advisory boards:
Strategic 

Product/solution 

Customer/audience
EXTRA INFO
Startups can make good use of an advisory board, especially in their early stages or during periods of transition. You do not always need to have many years of experience in your field, to add value and impact. Instead having a skillset that the organisation needs at a particular moment of their startup journey can be your golden ticket.
Last but not least, one of the main responsibilities is to provide strategic advice and expertise to help the organisation reach its goals. In all situations, advisory board members are experienced and trusted advisors. As you work with the company's management team, you use your skills to guide the leadership in the right direction. As a result, you serve as a mentor to the management.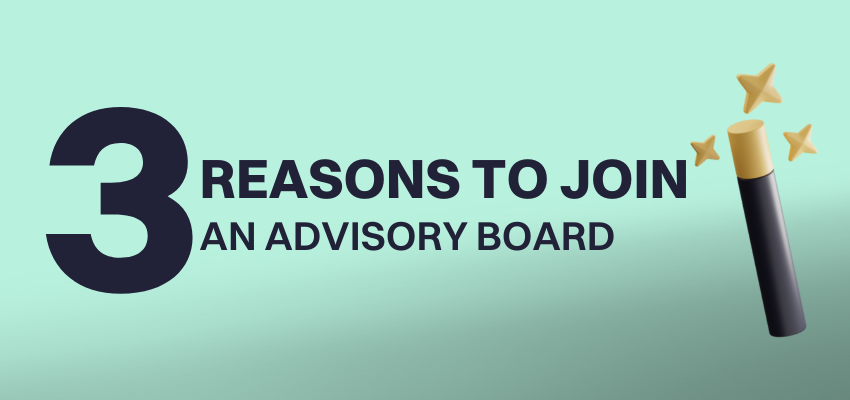 I believe there are 3 main reasons that should encourage you to take a seat on an advisory board:
1. ADDS VALUE AND DEPTH TO YOUR EXPERIENCE
Being a member directly acknowledges and promotes your expertise and knowledge. This definitely adds value and depth to your experience.

2. MAKES YOU EASILY "EMPLOYABLE"
If you are a part of advisory board directly linked to your profession, it will enhance both your credentials and visibility. You can be in a position to establish yourself and be recognised as a leader. These skills could for sure be improved in different ways, BUT it still adds tremendous value to your profile in the job market. Basically, you skyrocket your chances of getting hired – if you ever decide to look for a new job. In case you would later want to take on seats among the board of directors, experience from advisory boards also makes this career step easier.
An advisory board is an excellent chance for networking and creating valuable professional connections. You might think why would I need that? Well, the bigger your network the more resources you have as an individual. This can help you at any point whilst building your career.
SOO, THAT BEING SAID . . .
When taking a seat on an advisory board you should definitely consider the benefits that may be gained by sharing your knowledge and interacting with others. Do not want to spoil your thoughts but you will definitely find that the benefits outweigh by far the more demanding sides. Even if these perks will require some serious commitment and dedication on your part. It is all worth it, trust me.

But, unless you are absolutely sure that you have the dedication and time needed to succeed, you should maybe not go straight-headed towards a board member position. Being a passive member can very quickly have a negative effect on your reputation and career.

I wish you all the luck and have my fingers crossed if you decide to go for that advisory board member seat. Go out there and make an impact! Do not let your knowledge sit.