I remember launching Startupmatcher in Oslo in 2015. Shortly after tumbling oil prices had unleashed a wave of entrepreneurialism throughout Norway. Surprisingly, almost one in four startups fail because they are unable to hire the right team. Inspired by Angellist's impact on the US startup scene, my mission was to facilitate new opportunities for startup teams and talent in the Nordics by developing the region's first startup-only job board. The traditional application process was replaced by one-click applications. These applications instantly generated chat threads between job seekers and founders, and the platform quickly gained massive popularity amongst Norwegian founders. Things were looking good, but as with any true startup journey, light quickly turned into darkness when The Hub launched out of nowhere in Copenhagen just a few weeks after we went live. Fuelled by Danske Bank and Rainmaking, The Hub was a better-looking service with a vastly superior UX, a bigger team and a more generous marketing budget. David vs. Goliath.
Ever since their inception, Startupmatcher and The Hub have co-existed as key contributors to the Nordic startup scene. We were bridging startup teams and talent like no other in Europe. The Hub has certainly been the bigger sibling of the two, with a deep presence across all Nordic countries except Norway, where Startupmatcher's strong standing has blocked its entry. The Nordic startup scene has matured a lot since the two services were founded, and we would like to evolve with it.
Today, I'm excited to announce that Startupmatcher and The Hub are joining forces. Our joint goal is to take the Nordic startup ecosystem to new heights. Our shared vision has brought us together and we can't wait to continue supporting the Nordic startup scene, operating with a single unified platform.
What we have achieved
Over the last seven years, we've experienced first-hand that talent is increasingly gravitating toward companies with bold and impactful missions. Applicants want to take part in building something new and exciting from the ground up.
Startupmatcher and The Hub have delivered more than 1,300,000 job applications to startups, submitted by close to 500,000 startup-ready talent
Startupmatcher and The Hub have served more than 14,000 Nordic startups of all shapes and sizes. These startups showcased more than 75,000 unique job opportunities
Looking ahead, we have migrated Startupmatcher's users onto The Hub. This will continue to be the brand name of our new and revamped platform. We are guided by the belief that finding a job on The Hub should feel more like finding a purpose in life.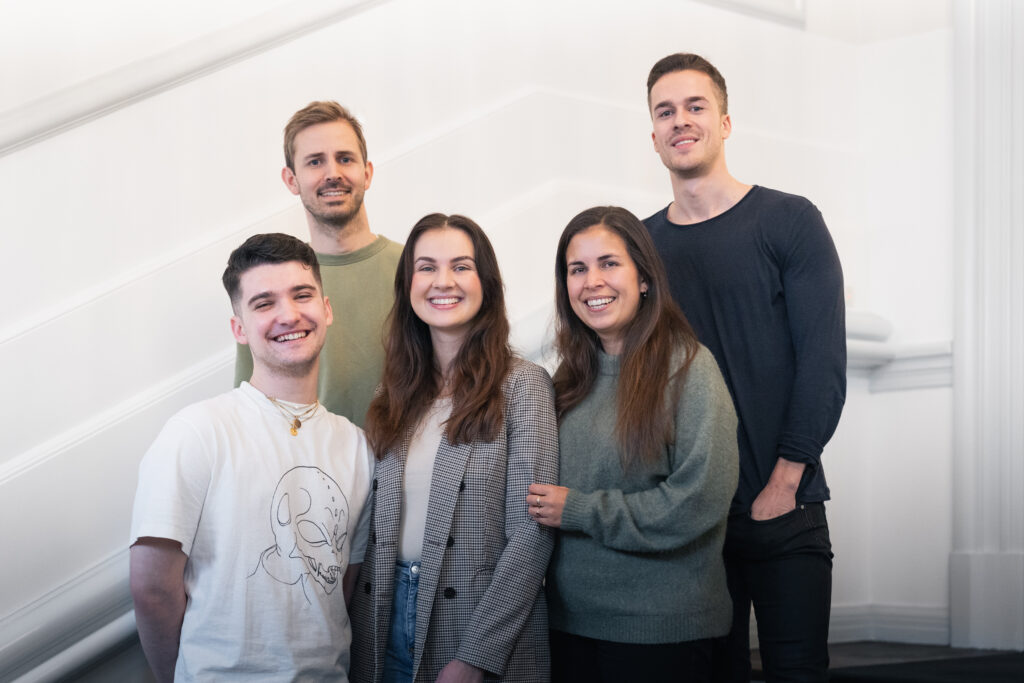 The Hub and Startupmatcher's merged team
What's next for The Hub?
Startups come in all shapes and sizes, and moving forward, our product offering will reflect the different hiring needs of companies at vastly different stages. In the coming days, weeks and months, you'll experience new additions to The Hub's product. Recent examples include;
The Hub will always remain free at the most basic level to support early-stage startups and founders that are just starting.
The Hub will introduce several new advanced recruitment services for growth startups and larger scale-ups. We want to ensure that companies with the ability to pay will get the chance to hire the right candidates time and time again. From targeted cross-channel promotions to headhunter-light services, we'll cater to all startups from pre-seed to post-IPO.
The Hub will cut out the noise and focus 100% on startup recruitment. We will be spinning out non-hiring services into separate products over time.
The Hub will go beyond the traditional job search to link talent with startups. Starting with Insights, a discovery tool with daily content from the ecosystem to help talent find new startups, industries and trends through featured company lists, founder interviews, opinions, data reports and more.
And this is just the beginning…
A new journey begins
We know that finding the right person for the job is always going to benefit any company. But at a startup, the right hire can change the trajectory of the business in ways that are hard to imagine. As we now continue our journey on The Hub, we are more motivated than ever to build the best recruitment services to fuel the next wave of Nordic entrepreneurship. I personally couldn't be more excited to serve the incredible people of the Nordic startup scene as The Hub. The best companies are built in downturns and talent is currently more accessible than ever. Let's take the Nordic startup scene to the next level together!
Thomas Sveum – CEO, The Hub